PETS

What is PETS?
 Presidents-Elect Training Seminar (PETS) is Rotary's training program for club Presidents-elect throughout the Districts of the world. The goal of PETS is to prepare Presidents-elect for their upcoming roles.
What is CEE PETS?
Previously in Rotary Great Britain and Ireland, PETS has been held by each individual District. For Presidents-Elect 2020-21 we have  joined with two other Districts  (1060 and 1240) for a multi-District pilot which will bring together in-coming club leaders from Norfolk, Suffolk, Cambridgeshire, Essex, Bedfordshire, Hertfordshire and Buckinghamshire.
Held over a weekend, we have the opportunity to prepare our Presidents-elect for their leadership year of 2021-22 through provocative plenary speakers, in-depth breakout sessions, discussions with peers from various districts, and informal fellowship and networking with other Rotarians.
It promises to be an uplifting and exciting experience.
Where and when is CEE PETS?
Due to the pandemic, the event is being held online over the weekend of 5th-8th March 2021 with sessions spread over the period.
The podcast (click here) gives more information.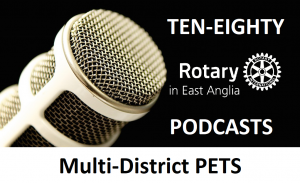 The emphasis throughout the sessions is for interaction.  There will be a combination of general sessions with guest speakers, national and international, District sessions covering a range of topics and joint President Elect sessions.  The latter will be demand driven from six choices – Planning Your Year, Running Your Meetings. Leading Rotarians, Attracting New Members, Engaging Your Club Members, and Running Your Club.
We look forward to meeting all the President-elects from District 1080 and those from the other two Districts.
This will be a memorable weekend for all!
Click here to see programme outline